About Us
At Dun-Rite we are professional source for pressure washing with nearly two decades of experience servicing Whatcom County. We offer hot or cold portable cleaning and maintenance services for most exterior surfaces. We can clean just about any surface including composition, tile, metal and cedar shake roofs, siding, concrete or paver driveways and patios, parking lots, docks, decks, fences, gutters, machinery and more. Our knowledgeable staff is available to answer your questions and we pride ourselves on caring about each property as much as our customers. Trust us to ensure your project is Dun-Rite!
Family Owned & Operated since 1992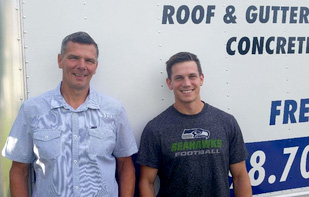 Dirk VanderMeulen established Dun-Rite Services, an exterior cleaning and maintenance company, in April of 1992. His goal was to create a cleaning service he could own with pride, while producing a long list of satisfied customers. He wanted to value each property as if it were his own, knowing each customer was entrusting him with their prized possession.
Today, Dirk has proudly handed over his thriving business to his son Brantley. Brantley has worked side by side with Dirk for almost 10 years. Now it's his turn to carry on Dirk's legacy of being incredibly efficient, experienced, and ethical in all his business dealings. We look forward to continuing to provide terrific service to our local community for years to come.
The value offered by Dun-Rite is summarized in the following way:
WE CARE about Quality
Pressure washing is a complex and advanced cleaning service that requires substantial levels of knowledge and skill to be done effectively and safely. Unfortunately, the pressure washing industry is one that is easily entered, being accessible to anyone with a working power washer and a little ambition. For this reason, the cost of pressure washing in Whatcom County is as wide-ranging as the levels of skill and professionalism represented. Shopping around for pressure washing quotes, then, is far from an "apples to apples" comparison; in this industry you get precisely what you pay for.
At Dun-Rite we have the knowledge, skill, and equipment to perform with excellence. We deliver the highest quality service in a way that is safe for your home and property.
WE CARE about Customers
Dun-Rite strives to offer the very best in customer service. We work with the customer's preference in mind so that the finished project is completed to the highest standard. There is nothing we value more than our loyal customers. We aim to finish the work in a timely manner, ensuring minimal inconvenience to each customer.
WE CARE about Safety
Dun-Rite is dedicated to using safe practices. Every one of our employees receives safety training and certification. In addition, each of our servicemen is covered by workers compensation and our full-time staff is offered comprehensive health care benefits.
WE CARE about the Environment
Dun-Rite is an environmentally friendly company. All of our cleaning solutions are eco-friendly and we do our best to ensure that we have a minimal impact on the environment as we work. Customers can be confident that our cleaning process is one that is safe for the landscaping around their home, for their pets, and for the environment.
—ENSURE YOUR PROJECT IS DUN-RITE!—
CALL US TODAY FOR A FREE QUOTE
360-398-7072